Green Transportation
Green transport, or sustainable transport, uses human power, animal power, public transportation, smart design, and renewable energy. In common usage public transport is considered a green transport option in comparison with private vehicles, as is car pooling. But some people prefer a definition that does not include public transport or vehicle uses which rely on non-renewable energy.
In general, green transport includes:
Walking
Cycling and other types of human-powered transport
Green vehicles
Solar powered vehicles
Wind powered vehicles
Water powered vehicles
Often there a sliding scale is applied to green transport depending on the sustainability of the option. Public transport via traditional diesel buses uses less fuel per passenger than private vehicles, but this method is not as environmentally friendly as using a hybrid electric powered bus. Ultimately, the goal of green transportation is to reduce the environmental damage from use of cars and trucks, and to reduce greenhouse gases.
Visit
Ecoseed Green Transportation Homepage
Visit
Manitoba Government Website on Green Transportation
Source: Ecoseed
Manitoba Launches Year-Round Commuter Challenge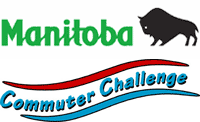 Manitobans demonstrated an outstanding commitment to environmentally friendly transportation, finishing at the top of the 2010 national Commuter Challenge. Manitoba''s program is being expanded to operate year-round in the province.
Manitobans logged more than 700,000 green kilometres during the 2010 national Commuter Challenge. This reduced greenhouse-gas emissions by about 200 tonnes, the equivalent of burning more than 60,000 litres of motor vehicle fuel.
To encourage Manitobans to continue choosing active and climate-friendly transportation, the Green Action Centre will operate the Commuter Challenge year-round.
"We invite all Manitobans to take part in the new Manitoba Year-round Commuter Challenge," said Randall McQuaker. "We are pleased to partner with the province to expand the week-long national challenge to a year-round initiative here at home, a first in Canada."
The year-round commuter challenge will encourage Manitobans to leave their vehicles at home and walk, cycle, take public transit, carpool or share rides instead of driving to work alone.
View
October 15, 2010 Manitoba Government news release
View
Green Action Centre, Year-Round Commuter Challenge website
Source: Manitoba Government